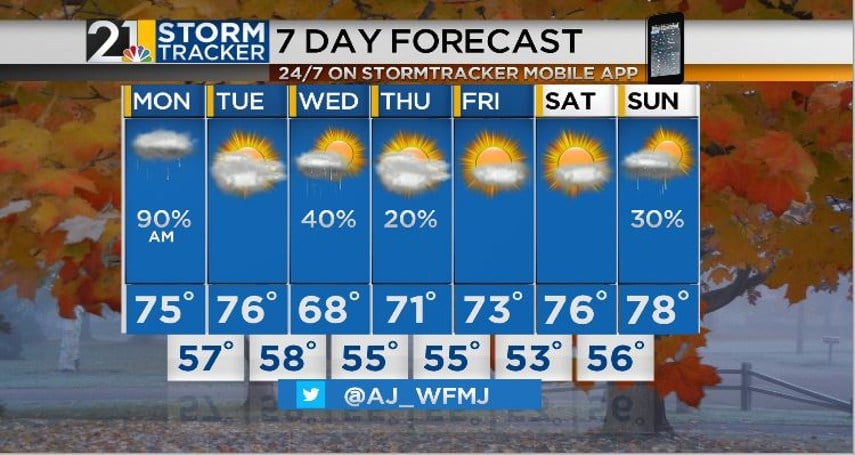 Humidity will continue to increase through the weekend and an onshore wind will give way to a slight chance of afternoon showers returning on Sunday. With abundant sunshine, a light northwest breeze, and dry weather, temperatures will climb into the lower 80s for most of the state.
The latest picture will be two cold fronts in this First Alert forecast. Overnight lows will fall into the lower 60s.
Cloudy skies dominate tonight with scattered showers and patchy drizzle likely.
Even cooler weather follows for Thursday and Friday with highs in the mid 60s.
JP Morgan Chase & Co (JPM) Shares Bought by Private Wealth Partners LLC
Oregon Public Employees Retirement Fund bought 431,600 shares as the company's stock declined 6.04% while stock markets rallied. Doyle Wealth Management boosted its stake in shares of J P Morgan Chase & Co by 1.1% in the 2nd quarter.
Saturday: Early clouds, fog then becoming partly cloudy, warm and muggy. Overnight lows will fall into the 20s and 30s, so we're a little bit below average. High pressure continues to build in across the region, any clouds left over from Wednesday are gone.
A cold front will work closer to the Commonwealth today while sparking off scattered showers and thunderstorms. Temperatures will rise well into the 70s to near 80 degrees and the southwesterly breeze could gust to 30 miles per hour during the afternoon.
Very humid and warm, with highs in the mid 80s, and heat index values in the low 90s. I expect highs to range from upper 60s to mid 70s.
Mostly sunny skies are expected over our area before noon Tuesday. Skies improve by afternoon and evening Friday. Again, expect highs in the upper 40s and 50s.